Know more, Remember more
The small size of our school and the local context enables us to respond to the needs of all our children on an individual basis, including the most able.
Our creative but broad and balanced curriculum is specifically designed and mapped to develop children's knowledge and skills through rich and exciting learning experiences.
Our school ethos, underpinned by our Christian values and high expectations enables all children to develop transferable skills and knowledge preparing them for their next steps in learning. Progression is therefore systematically mapped and cumulative to ensure a coherent sequence of learning. Knowledge and skills are intrinsically linked through the curriculum and our themes provide a steer for a cross-curricular approach. This allows all of our children to make connections which encourages problem solving, enquiry, creativity and imagination. The children develop a range of important skills and attributes that can be applied in a variety of different contexts and real-life experiences.
At St Peter's school our theme-based curriculum is underpinned by the National Curriculum and the Early Years framework. We draw from our local context, children's interests, national/international events within the year and current affairs to design an engaging and rich, hands-on learning experience for our children which builds upon children's prior knowledge and maximises their potential.
We want all our children to flourish and develop a lifelong love of learning that will enable them to become educated citizens equipped for modern life.
We have 3 classes at St Peter's:
Reception (Busy Bees), Year 1 (Ladybirds) and Year 2 (Dragonflies).
The children are grouped by age in a mixed ability class. Within these classes the work for children is planned individually or in small groups so it can respond flexibly to pupils' needs. The children may be grouped according to their ability for subjects such as Mathematics and English.
Our curriculum complies with the requirements of the National Curriculum and 'Every Child Matters' agenda whilst promoting Fundamental British Values.
The aim is for every child, whatever their background or circumstances, to have the support they need to:
• Be healthy
• Stay safe
• Enjoy and achieve
• Make a positive contribution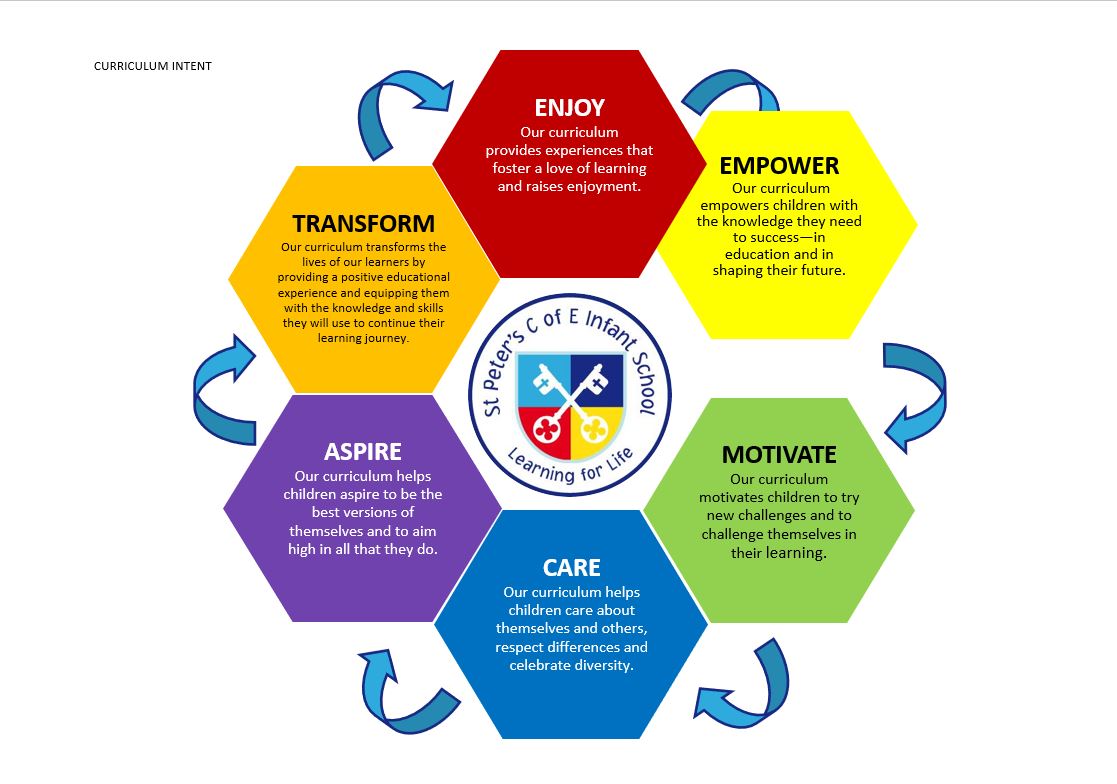 Our Curriculum Statement provides a detailed look at the principles which underpin the curriculum we offer at St Peter's C of E Infant School.
Busy Bees Class – Reception Year
In the Early Years Foundation Stage there are 7 areas of learning and development.
The 3 prime areas are
communication and language
physical development
personal, social and emotional development
We support children in 4 specific areas through which the 3 prime areas are strengthened and applied.  The specific areas are:
literacy
mathematics
understanding the world
expressive arts and design
The new EYFS Statutory Framework does not prescribe a particular teaching approach. The DfE (2021) states in the framework (page 16) that "Play is essential for children's development, building their confidence as they learn to explore, relate to others, see their own goals and solve problems. Children learn by leading their own play, and by taking part in play which is guided by adults."
In the EYFS at St. Peter's C of E Infant School, our team decides what we want the children to learn in our classroom and the most effective ways of teaching it. Each day we stimulate children's interests, respond to each child's emerging needs and guide their development through warm, positive and meaningful interactions coupled with secure routines for play and learning. As children develop their skills throughout the Reception year, we use more direct teaching so that children develop the skills and confidence required for the end of their Reception year and moving to KS1.
The teachers carefully plan learning opportunities to help the children develop in all areas.
We deliver the curriculum through carefully planned, purposeful play, as well as adult-direct learning in order to enable the children to build on what they already know. Play takes place both inside and outside of the classroom.
In class the children may be taught as a whole class, in small groups or individually, to ensure that they are all progressing from their starting points.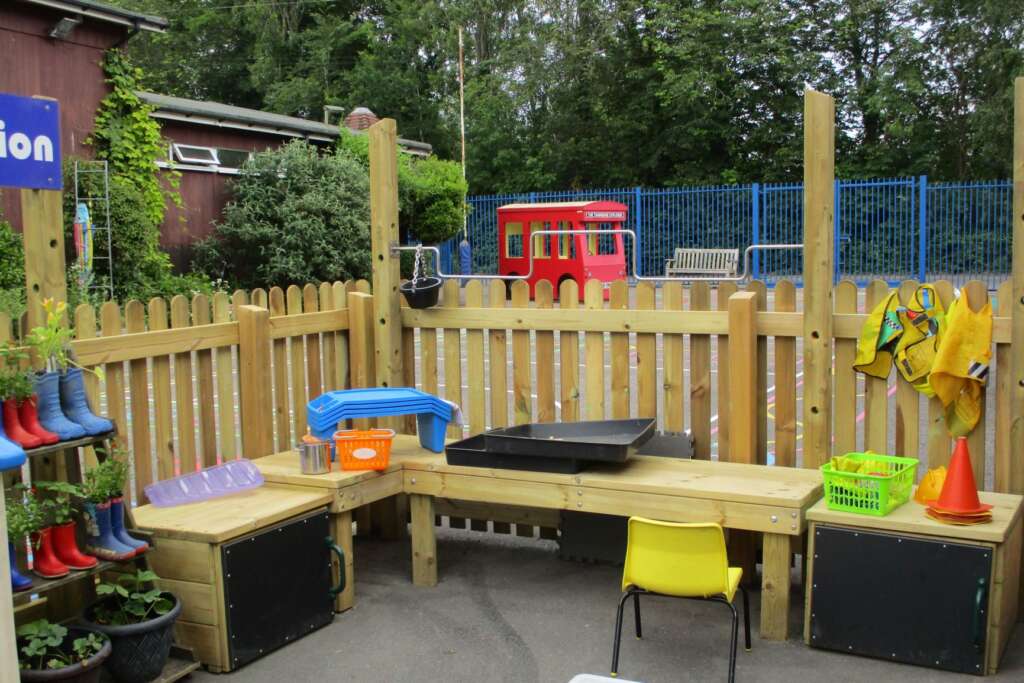 Key Stage 1 (years 1 and 2)
English is planned using the National Curriculum 2014. Pupils take part in activities to further develop their skills in speaking, listening, reading and writing. At Key Stage 1 we use the DfE validated 'Unlocking Letters and Sounds' systematic synthetic phonics programme to ensure our children are reading books matched to their phonics ability. We also make use of other reading schemes such as the Oxford reading Tree and Project X to encourage fluency vocabulary development.
The teaching of Maths is also based on the National Curriculum 2014. The children are taught about the number system, calculations, shape and space, measures and data handling. An important part of their work is learning how to calculate mentally, investigate and solve problems using different strategies and by explaining their methods.
The other subjects areas covered in key stage 1 are:
Information and Communication Technology (ICT) and Computing
Science
 History
 Geography
 Design technology
 Art
 Music
 Physical Education
Knowledge and skills may be taught as part of discrete lessons or as part of topics. Topic work helps children make links between different subject areas.  As well as regular lessons, children have opportunities to be active and develop skills in planned lunchtime activities organised by our playleader. We also offer a range of sports clubs after school. St Peter's is developing a specialism in ICT. We have a lead teacher in this subject who is working with many of the new technologies available to schools. All classrooms have Interactive whiteboards and are well resourced with 15 Chrome books and a further 6 iPads which are used across the school.
The children at St Peter's have lots of exciting opportunities to learn outside of the classroom. Every opportunity is taken to learn in our beautiful school grounds and to make best use of resources in the village like the church. We recognize the value of school trips to bring learning alive for children.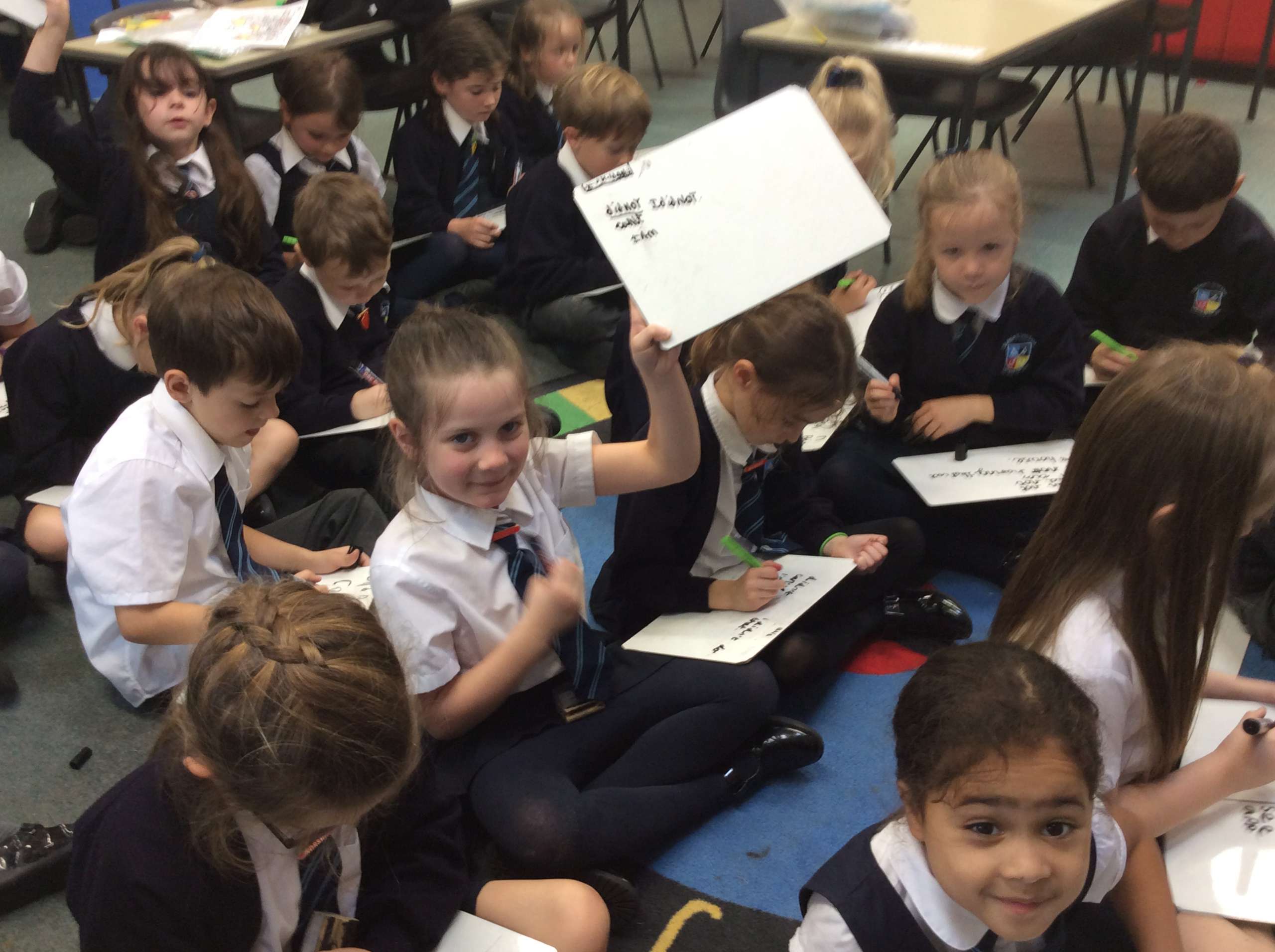 See this term's topic webs for each class to see how the subjects are interlinked: