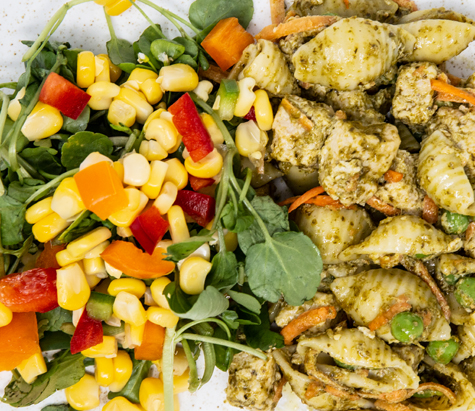 Our school is equipped with its own kitchen, staffed by a cook and assistant cook, for the provision of daily midday meals. The meals are of excellent quality and conform to the nutritional standards set by the Governments 'Food Standards' for school lunches which forms part of the 'The School Food Plan'. We pride ourselves on providing traditional homemade food sourcing our ingredients from local suppliers wherever possible. We provide freshly baked bread, desserts, biscuits and cakes. All sauces for pasta, meats etc are freshly made in school and many are vegetable based.
We provide options for the following dietary needs:
Gluten Free
Dairy Free
Egg Free
Vegetarian
Vegan
Allergy aware (free from)
Soya Free
We do not use nuts as an ingredient in the food we serve however at present, our suppliers cannot guarantee that all products supplied are nut free as products may be produced in premises where nuts are present.
Any food allergies MUST be notified in writing to the school.
Our cooks will also cater for religious dietary needs where possible.
To apply for a special diet menu, please contact the school office or download the Special Diet Request form below.
All children in Reception, Year 1 and Year 2 at St Peter's are eligible for a free meal through the government's Universal Infants Free School Meal Scheme.
Free School Meals/Pupil Premium
If you think your child may be eligible for free school meals, please contact the School Office in confidence for an application form or follow the link below – the details of the eligibility criteria are on the form. The information provided on the form will be used by Surrey County Council, to check eligibility for free school meals.
Parents are strongly encouraged to apply for free school meals even if their child receives the government funded meal (Universal Free School Meal) or they prefer their child to have a packed lunch, as this attracts valuable additional Pupil Premium funding for the school, which will also be used to give extra support to their child.
For further information on how the school uses Pupil Premium funding visit the 'Policies and Reports' section of the website.
Snacks
Sweets, chocolates, crisps etc are not permitted in school. Pupils up to the end of Year 2 benefit from the Government 'Fruit in School' scheme, which provides a piece of fruit for every child on a daily basis. All children have access to water in school and in the playground. Children are also encouraged to bring a bottle of water to school.
Milk
All children under the age of 5 can be provided with a free drink of milk every day. Milk for children above the age of 5 can also be ordered but charges apply. To order milk for your child please complete the online order form.