"Distinctly Christian values underpin the school and are evident in every aspect of its work." SIAMS Inspection Report May 2018
St Peter's is supported by the Southwark Diocesan Board of Education, the Oxted Benefice and the governing body.
The school badge depicts crossed keys. These are symbolic of St Peter because Jesus gave him the keys to the kingdom of heaven. We believe, at St Peter's School, that we are giving our pupils the key to learning and for a fulfilling future.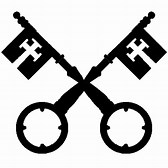 As a church school our ethos is rooted in our Christian faith and we seek to encourage an understanding of the meaning and significance of faith in the lives of our children. We believe that our children have unlimited potential and we strive to play our part in the promises of God for their future;
"For I know the plans I have for you,' declares the Lord, 'plans to prosper you and not to harm you, plans to give you hope and a future." Jeremiah 29:11
St Peter's Infant School is a Voluntary Aided Church of England School. This means that the teaching of RE is given significant importance. The Governors have adopted the Southwark Diocesan Board of Education's syllabus which is taught in each year group.
In order to allow the children to have the opportunity to explore deeper questions about life and learn about Christianity alongside a wide range of other faiths and cultures, it is placed in the core part of our Teaching, Learning and Assessment model. We allocate 10% curriculum time (a full morning or afternoon) to the subject.
The RE lead (who is also the Headteacher) and class teachers have read and pay regard to The Church Of England Education Office – Religious Education in Church of England Schools – A Statement of Entitlement. This document is used when evaluating and planning RE in school
Aims
To provide Christian teaching for children so that they can develop religious understanding and beliefs that are relevant for their whole life.

To promote the spiritual, moral, cultural, and social development of children so that through the development of their own sense of identity, worth, personal values and beliefs, they can be responsible members of the wider community and have an effect on the ethos of the school.

To help children to learn about, understand and respect other people's beliefs and cultures.

To develop the ability to reflect on and communicate issues of truth, belief and faith.
Religious Education at St Peter's
Religious education in a Church school should enable every child to flourish and to live life in all its fullness. It will help educate for dignity and respect encouraging all to live well together.
SPIRITUAL DEVELOPMENT at the heart of the curriculum
Spirituality is the heart beat of our school. It is how we understand ourselves and our place in the world: recognising strengths, weaknesses and having confidence to challenge ourselves. We care for the local and global community and our Christian values underpin our learning and encourage children to ask 'big questions'.